Schedule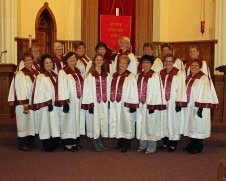 The FELC Handbell Choir practices every Wed. evening beginning Sept. 28, 2016 –  May 10, 2017 from 5:30 to 6:30 in the church chapel.
2016-2017 Tentative Bell Choir Praise schedule:
10/30/16, 11/20/16, 12/24/15 (Christmas Eve late service with vocalists Andrea Burton & Melonie Yocum), 1/29/17 (with instrumentalist Leah Shattschneider), 2/26/17, 3/26/17, 4/16/17 (Easter Sunday), 5/14/17 (Mother's Day)
We welcome our new members Makayla Frame & Izzy Oren!
We would like to thank Astro Lanes of Wapakoneta for hosting our end of the bell season dinner and bowling party.
During the summer of 2016 all 4 octaves of our bells were refurbished at Schulmerich Bell Company in Hatfield, PA.  Georgeann, Susan, and Judy saw first hand how our bells were made and how the refurbishing process was completed.  We would like to thank the anonymous donors, Thrivent, and the Wisener Memorial Fund for funding the entire cost of this project.
Please contact director Georgeann Stienecker for information on how to become a Bell Choir member 419-305-5066 or email at nksoccer@nktelco.net
Soli Deo Gloria (To God alone the glory!)
 
Bell Choir showing their serious side.
History
In 1999 the music committee was approached about starting a fund to purchase handbells.
By 2000 FELC had funds donated by various members and nonmembers to complete a two octave set of handbells.
We have since added 2 more octaves giving us a complete 4 octave set.
Let the ringing begin!
Wikipedia describes handbells as follows:
The first tuned handbells were developed by brothers Robert and William Cor in Aldbourne, Wiltshire, England, between 1696 and 1724.
Originally, tuned sets of handbells, such as the ones made by the Cor brothers, were used by change ringers to rehearse outside their towers. Tower bell ringers' enthusiasm for practicing the complicated algorithms of change ringing can easily exceed the neighbours' patience, so in the days before modern sound control handbells offered them a way to continue ringing without the aural assault. The handbell sets used by change ringers had the same number of bells as in the towers — generally six or 12 tuned to a diatonic scale.
Handbells were first brought to the United States from England by Margaret Shurcliff in 1902. She was presented with a set of 10 handbells in London by Arthur Hughes, the general manager of the Whitechapel Bell Foundry after completing two separate two-and-a-half-hour change ringing peals in one day.
The bells used in American handbell choirs are almost always English handbells. "English handbells" is a reference to a specific type of handbells, not to the country of origin. While some American handbell choirs do use bells made in England, the majority play bells made either by Malmark Bellcraftsmen or by Schulmerich Carillons, both based in Pennsylvania.
The two major defining characteristics of English handbells are their clappers and ability to produce overtones. The clapper on an English handbell is on a hinge and moves back and forth in a single direction, unlike a school bell in which the clapper swings freely in any direction. It also has a spring that holds the clapper away from the casting after the strike to allow the bell to ring freely.
Handbells can weigh as little as 7 oz (200 g) or upwards of 18 lb (8.2 kg)