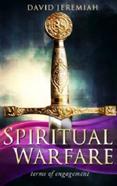 Dr. David Jeremiah presents, "Spiritual Warfare"
We will begin on Tuesday, September 24th,
starting at 6:00 PM in the Parlor.
You're in a battle and your opponent is seeking to destroy you! So, how do you protect yourself against Satan's attacks? Dr. Jeremiah presents a field manual for the Christian soldier. Don't leave your spiritual protection up to chance. Learn how to utilize the full armor of God and defeat the work of Satan in your life. This is a nine week study with our last session ending on November 19th.  All are welcome to join in the battle.